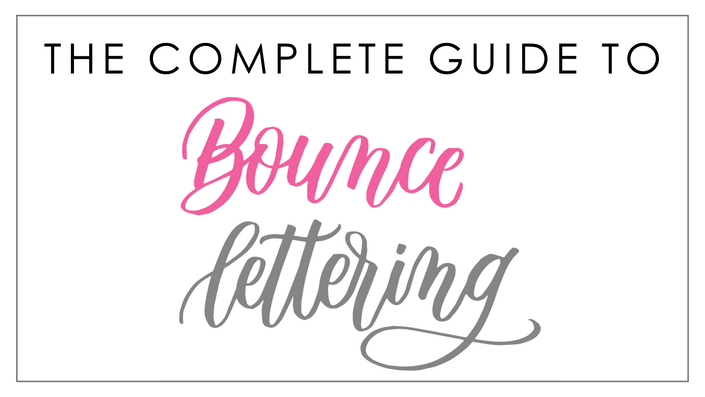 Complete Guide to Bounce Lettering
Learn how to create bounce lettering with our in-depth worksheets, video lessons, cheat sheets and more, all in one place!
Bounce lettering is a popular style of calligraphy that looks flowy and effortless. But if you've ever tried it, you know that it's harder than it looks!

In this online course, we'll teach you how to do bounce lettering that looks beautiful and balanced so you can confidently create your own bounce style.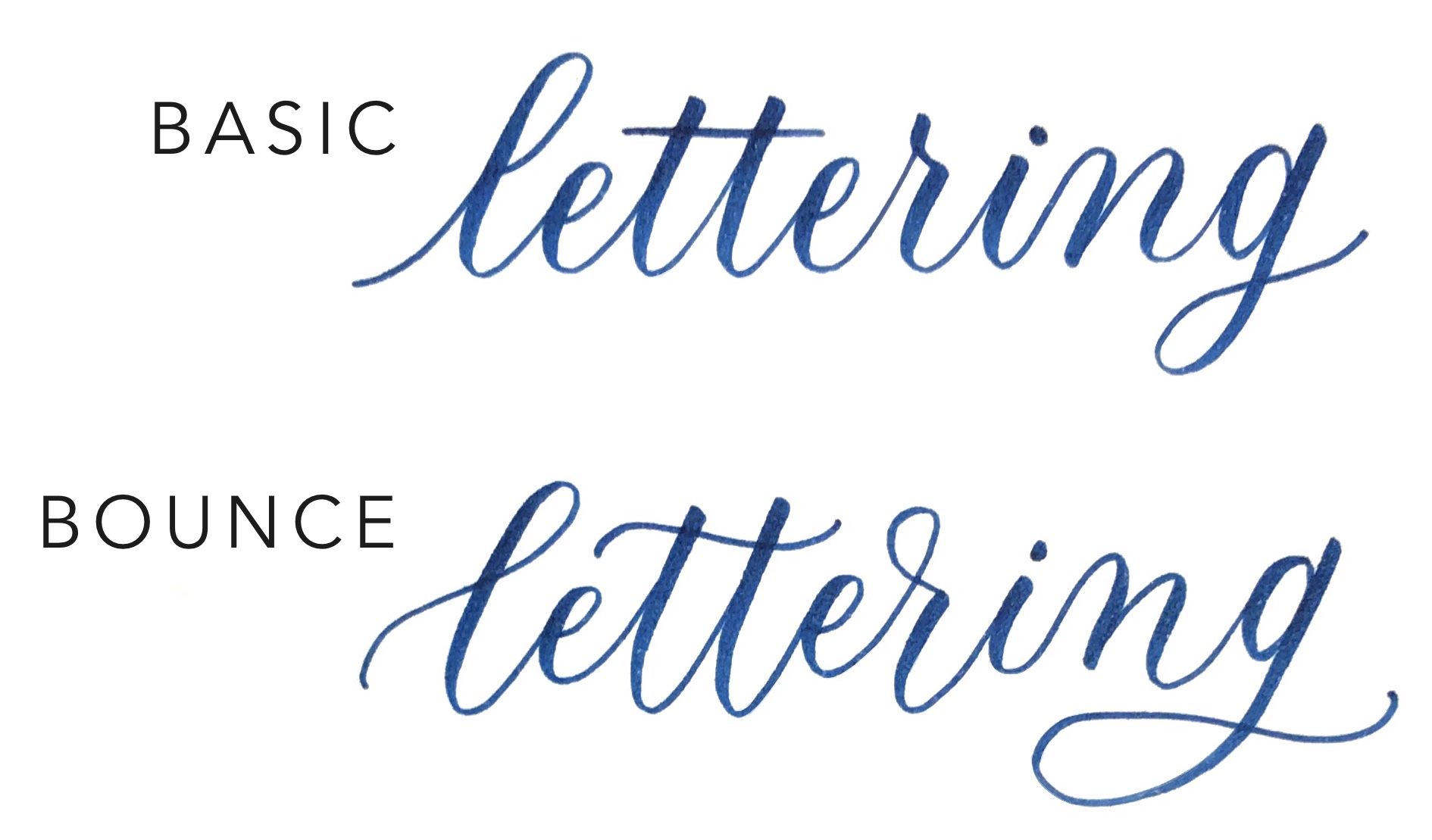 We've included videos so you can watch the rhythm of the style and follow along, as well as a workbook that has the full alphabet in 3 styles.
There are also traceables and cheat sheets that our students love.
Here's what you'll get:
3 styles of bounce for each letter

How to form words that are balanced plus

8 pages of traceable worksheets that match what we wrote in the video, plus a letter grouping page and a page of practice words

9 pages of practice words to trace (large) plus the same words on small guides (3 pages)

Bonus: An 8-page cheat sheet covering:

Our 7 favorite letters to bounce

The 5 letters we typically avoid

The entire alphabet on one page with multiple styles for quick reference

Common letter connections and additional example words

3 bounce patterns that work well and 4 patterns to avoid

Video lesson: How to plan a bounce lettering composition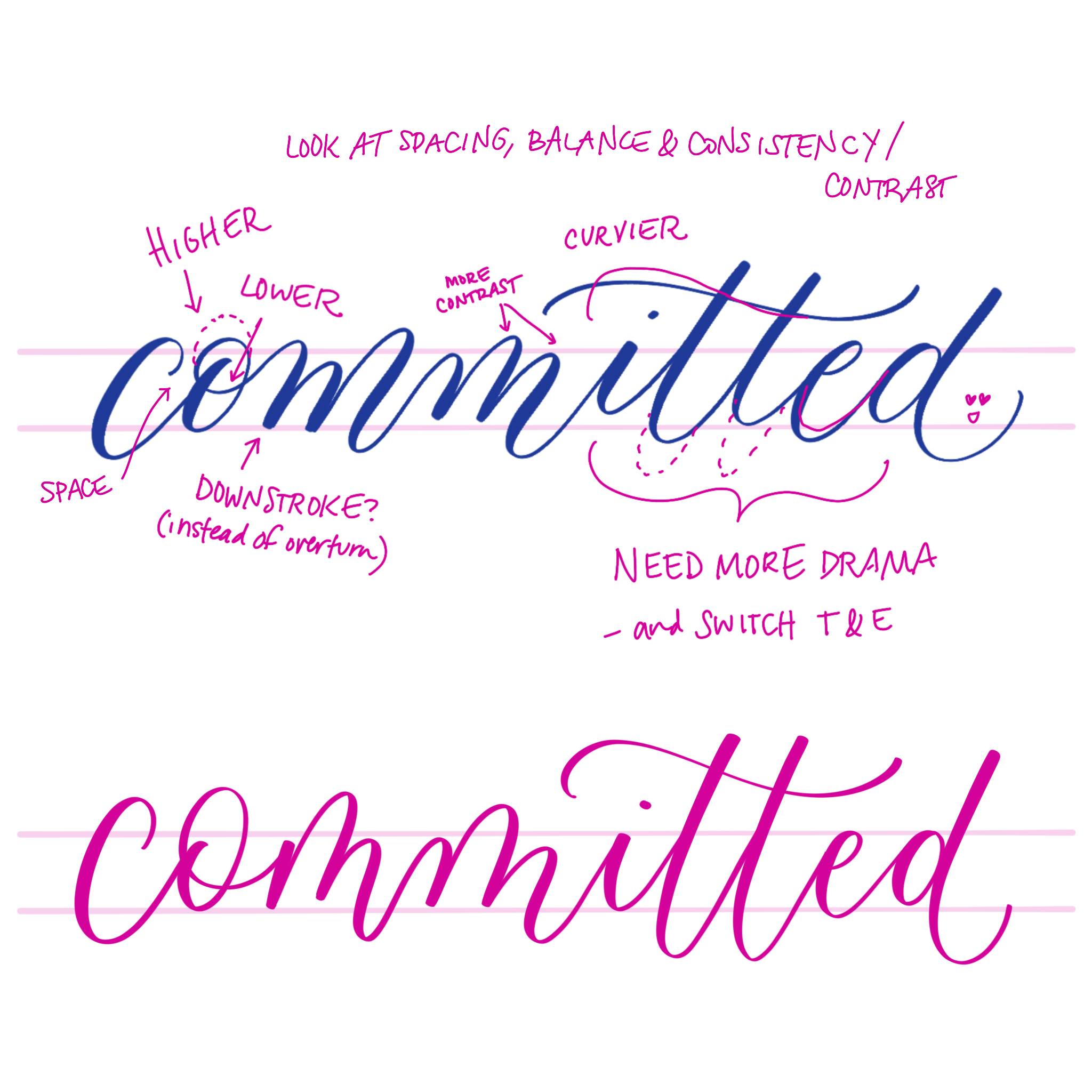 Jordan asked me to critique her bouncy style for this word she lettered. Here are some things I looked for...
CONTRAST: Is there a big enough difference between the dips to make them look intentional?
CONSISTENCY: Are there any areas where the bounce looks too high or low, or out of place?
BALANCE AND SPACING: When you take a step back and look at the big picture, does it look balanced?
LEGIBILITY: Can you read what the letters spell? If not, you'll need to figure out what's causing the problem and adjust accordingly. A slight change can make a big difference.
Remember, there are MANY ways to add style and bounce to your lettering, and these are just some of the things that I like to think about. Hope it helps! - Jillian
P.S. I think Jordan did a great job on her word, but she asked me to be picky ;)
Course Curriculum
Let's Learn Bounce Lettering!
Available in days
days after you enroll
Resources
Available in days
days after you enroll
How to Plan a Bounce Piece
Available in days
days after you enroll
FAQs
"Is this course right for me?"
If you know the basic shapes and letter forms already and you're looking to find your style, this course is perfect for you.
If you are a complete beginner, please know that we go in-depth into bouncing and assume you already have the basics down.
"What type of lettering will this work for?"
The course is taught using a large brush pen, but the concepts apply to all tools including pointed pen, small and large brush pens, water brushes, paint brushes, and even faux calligraphy.
"What do I need to take this course?"

We strongly believe in this quote: "Learn the rules like a pro so you can break them like an artist." We recommend that you enroll in this course if you have a solid understanding of basic lettering principles, including the fundamental strokes and letter formation. (If you aren't sure, a great place to start would be our free faux calligraphy course!)
Otherwise, all you need to take this course are your favorite lettering supplies! It will also help if you have access to a printer so that you can print the worksheets.
At the end of the day, we just want you to be a confident lettering artist who can add some bounce into their style. We made this course to give you a short-cut to that outcome, so that you don't have to spend months trying to figure it out like we did.
We are confident that the materials in the course will help get you there and we would love to have you join our community.
Happy Lettering!
Your Instructor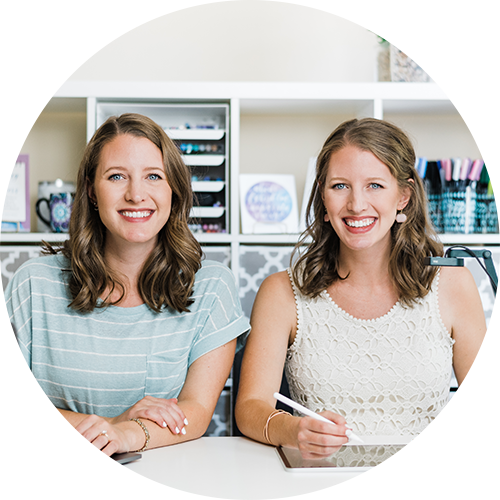 We've helped hundreds of students just like you transform into confident lettering artists. You can do it too, promise.
We were beginners just a few years ago so we completely understand the struggles of starting. The course was designed with those obstacles in mind!

Start your lettering transformation today. We can't wait to see how far you go.