In this online course, you'll learn how to use the powerful features of the Procreate app to create impressive digital artwork.
AT A GLANCE...

1. Understand how to navigate the best app that exists for lettering on the iPad
Everything from what all the buttons are and where to find them to importing files and brushes. You'll get a shortcut cheat sheet and three custom brushes that we created specifically for the course, too.

2. Learn how (and why) to use powerful features
Layers, masks, clipping masks... what do all of these mean? Confusing at first, we'll break down these digital art essentials so you can actually understand them.
3. Create amazing digital lettering projects
We'll walk you through 16 hands-on projects that show advanced features in context. Trust us, the Overlay layer blend mode makes much more sense when you use it in the Reflection project, rather than just talking about it hypothetically ;)
You'll learn the what AND the why of each step of the process. There can be many ways to produce the same effect, but we'll show you the best way to get there.
Bonuses!

At the end of the course, you'll get a bonus lesson pack about how to create mockups and cut files with your digital lettering. You'll also get our lettering guide so you can practice your lowercase and uppercase alphabet directly in Procreate.
NEW BONUS ADDED:

Learn how to create amazing animations in Procreate! You'll get access to our full animations course as a bonus for enrolling in Procreate Lettering Projects.
Keep scrolling down the page to see everything you'll learn to make!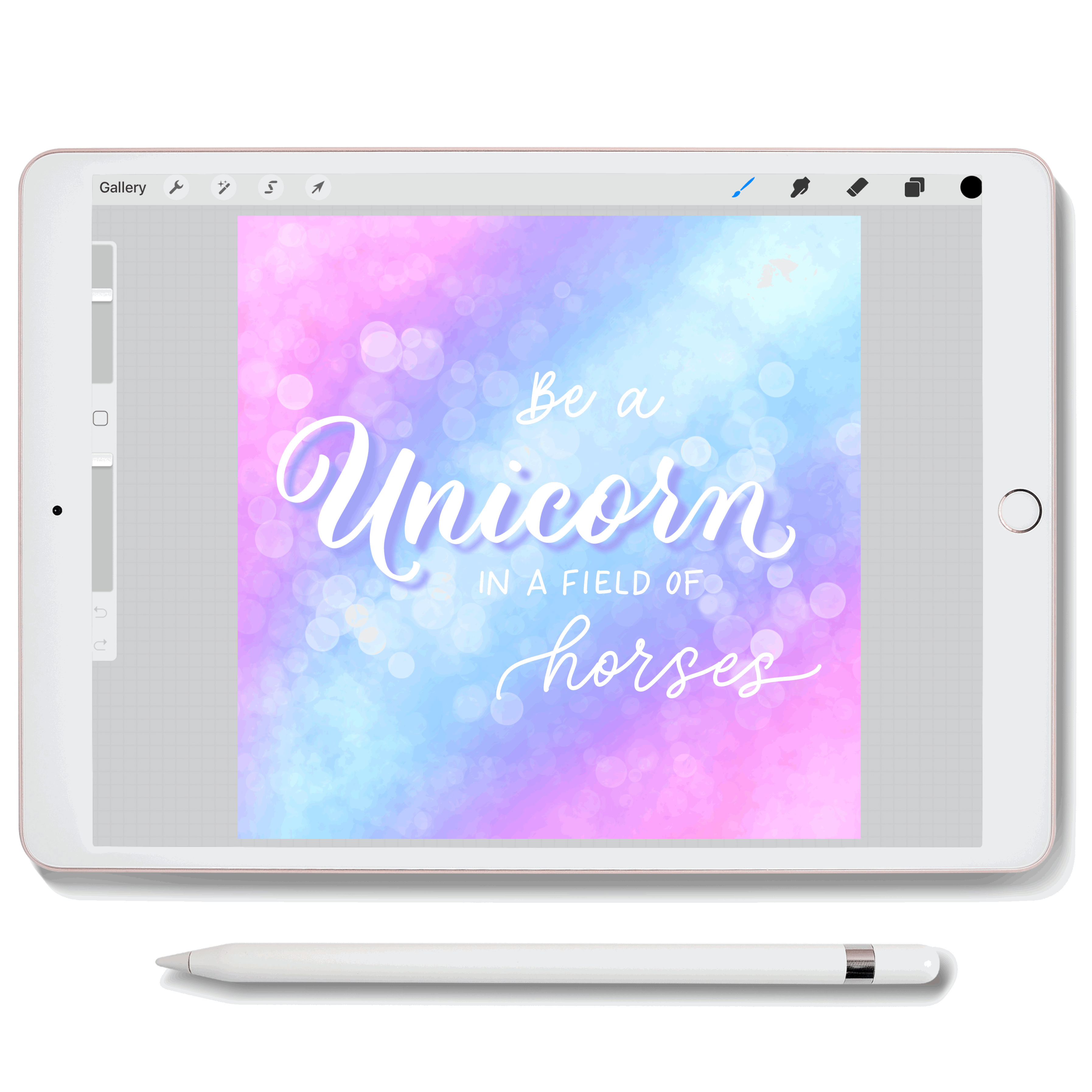 "This app is so powerful but it has so many features and settings, I feel overwhelmed."

We agree—there's a lot to learn. So we'll start with the basics of navigating and using the app.
In the introductory modules, we'll cover these topics:
Gallery and Canvas interface and menu walk-through
Basics of tools (brush, smudge, and eraser), creating color palettes, image adjustments, and layout editing
How to import brushes, files, and images
Exporting your work to share in multiple file formats
Intro to layers, masks, clipping masks, blend modes
Gestures and shortcuts video and cheat sheet
These lessons will give you the solid foundation you'll need before moving into the more advanced features of Procreate.