Quiz: What do all of these brushes have in common?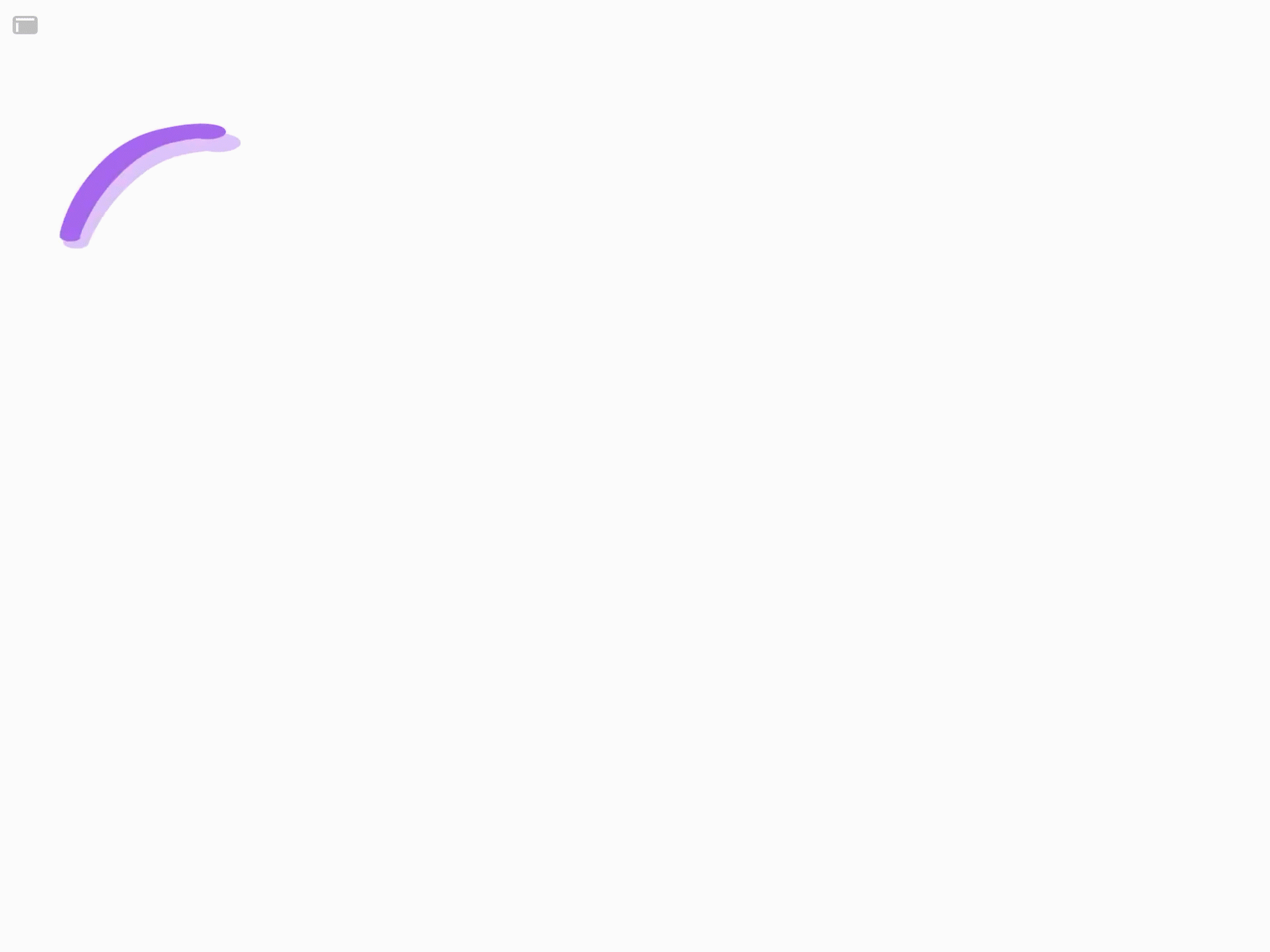 Answer: They all started out with the exact same default settings!
So why do they look so different?
The Procreate Brush Studio contains over 100 settings. Changing small things here and there can produce incredibly different results!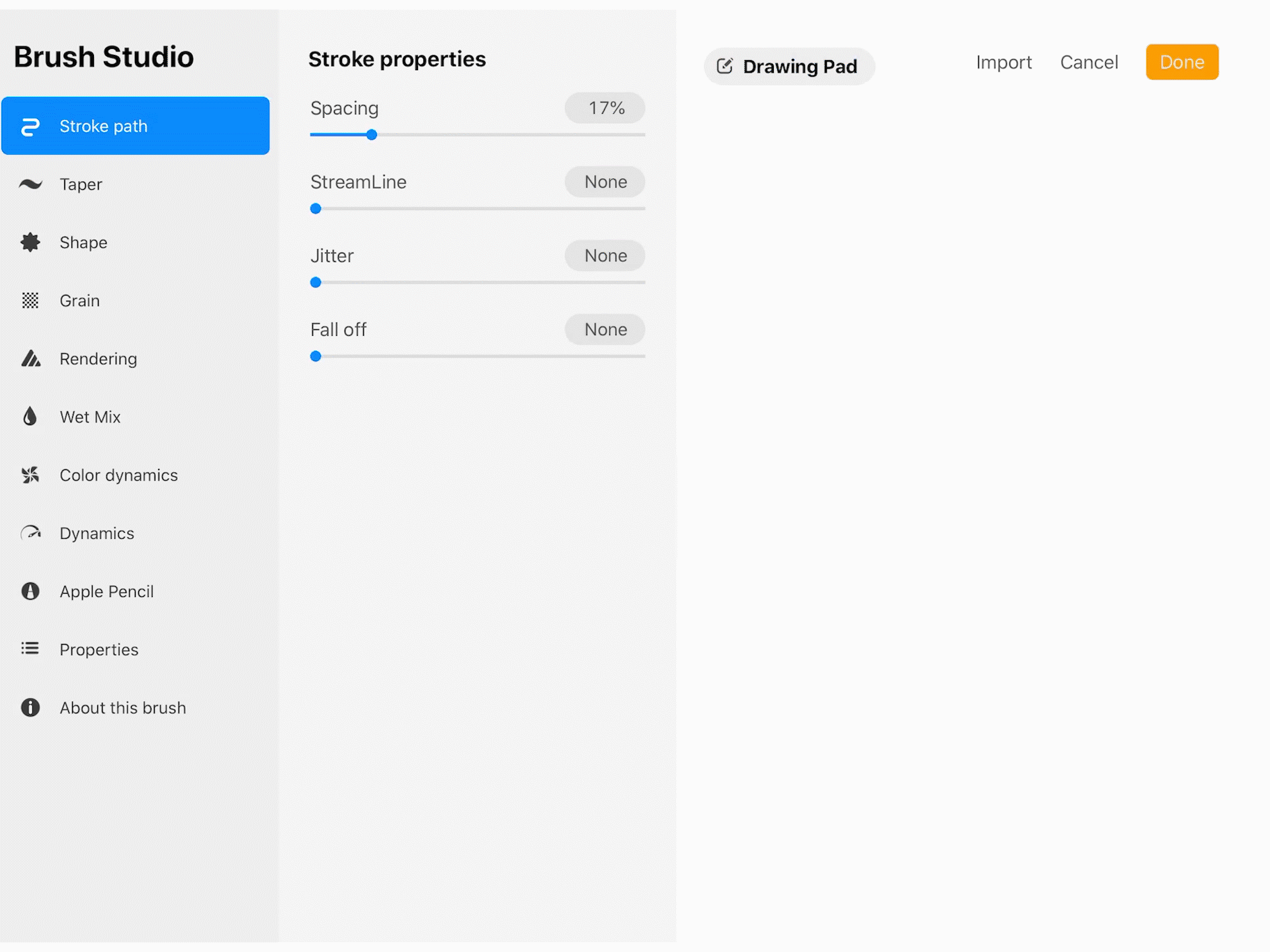 Here's what a default brush looks like before any settings are changed.
Knowing which properties to change and why is a valuable skill to have, whether you're making brushes for fun, for a specific project, or to sell.
Does that sound like something you're interested in?
(We have a feeling that's a YES!)
Introducing... Our new online course:
"Jillian and Jordan, I can't thank you enough for this course ...
I have dabbled previously with making brushes but haven't really understood what all the settings were for and how they interact with each other! I've been able to go back to my own brushes and make some very pleasing changes!
I'm a huge fan of your calligraphy anyway but this course has taken me one huge step forward to finally feeling more in control of my style and my tools!
With grateful thanks—Glyn"
You'll learn how to tweak brush settings to create unique Procreate brushes. At a glance:
1. Learn to Make 27 Brushes from scratch
9 calligraphy brushes

6 color-changing brushes
7 textured brushes
5 outline brushes
Explanations of why to change each setting
2. Creating Your Unique Brush
After learning our 27 brushes, you'll be ready to make your own brushes. We'll teach you two approaches with examples and a worksheet to give you an easy starting point.
3. Detailed explanation of every single brush studio setting
We look at every slider and button in each of the 11 brush attributes (that's over 100 settings!).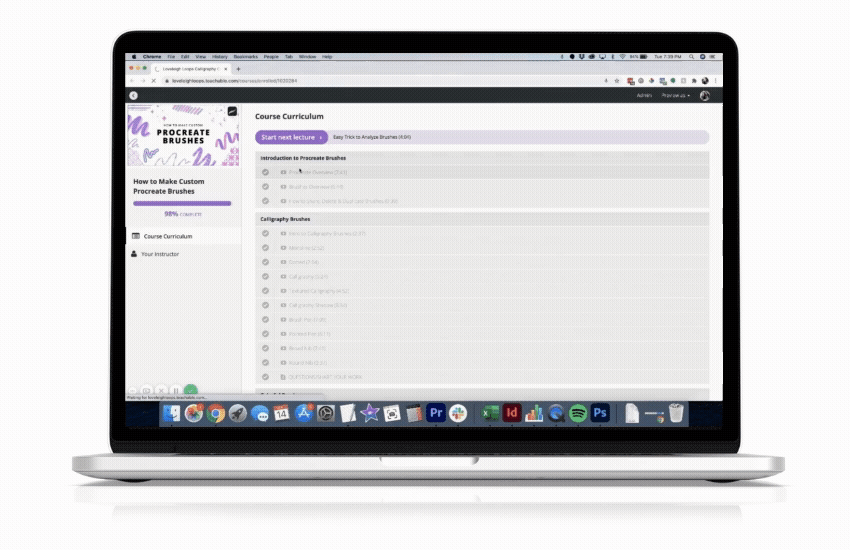 See the brushes in action:
"The class is great! I've been wanting to do this for a long time, but that brush studio is intimidating so thanks for making it easy!" - So H.


"Finally the class I've been waiting for!" -
Beth M.
Using special brushes can transform your work
In the examples below, you'll see lettering on the left in pencil. On the right, all we've done is trace over the letters with a special brush and used other brushes to add neat effects. See the difference?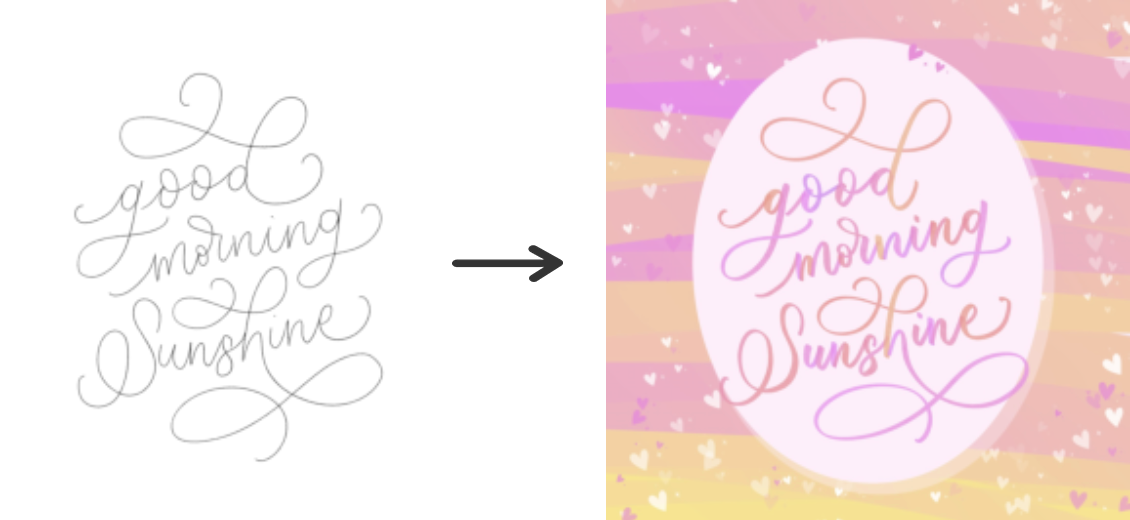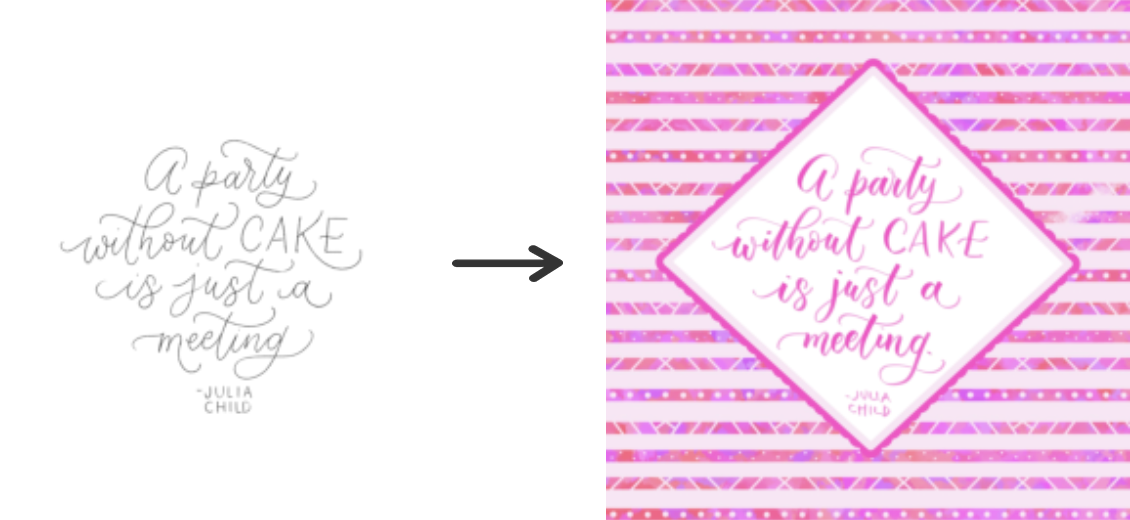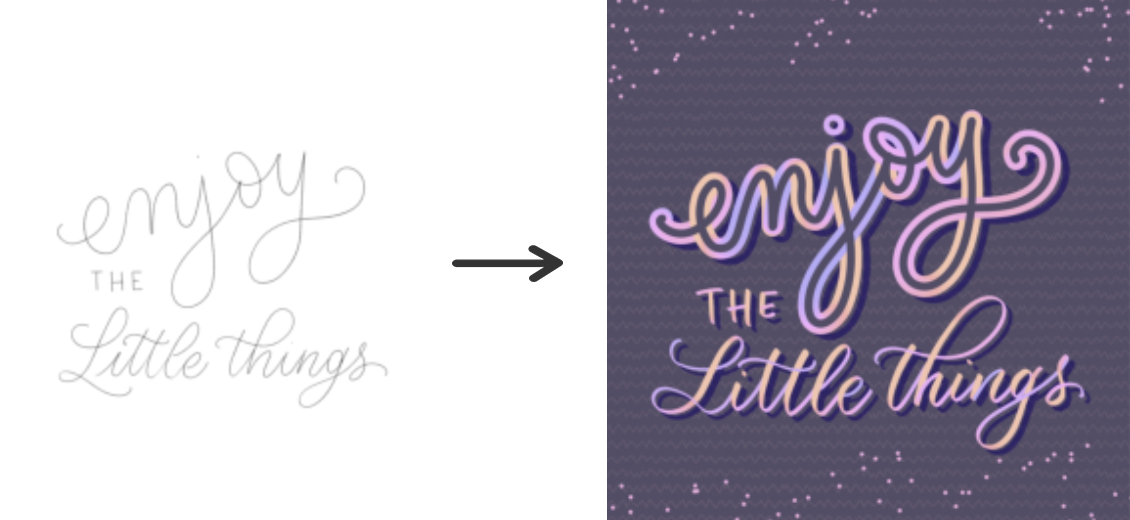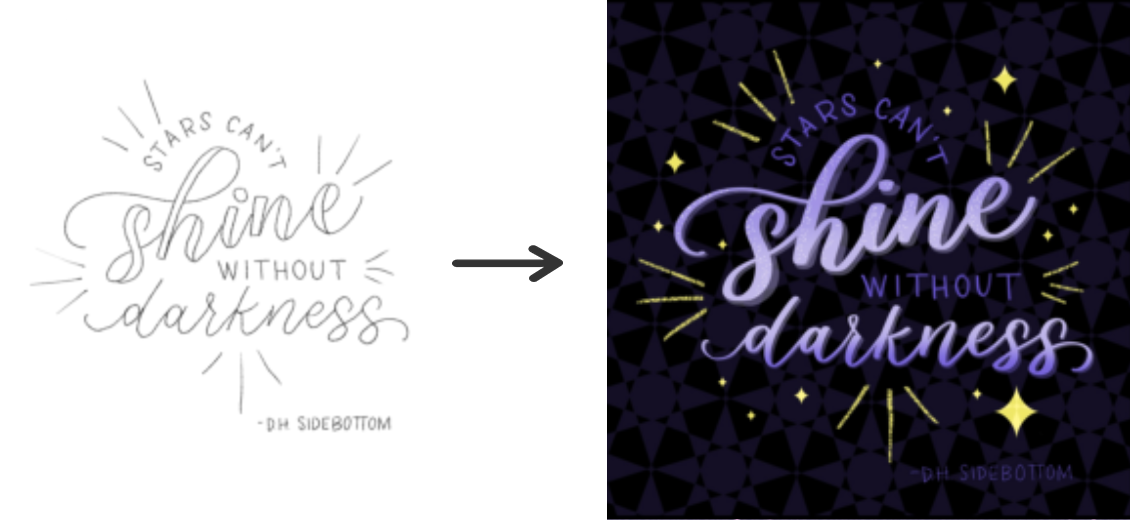 Psst: We'll teach you how to make these exact four projects in the course, too!


"Loving this course. Very easy to follow. Can't wait to do more." - Barbara W.


"The Brush Studio was very intimidating but with this class I feel confident I will be able to create my own brushes!! I already have a few ideas. 😁" - Lydia O.
Bonuses
In addition to the course content, we've added on some awesome bonuses for you!
BONUS #1: Four Lettering Projects
Use the brushes you created in the course to make four fun lettering pieces.
You'll get the templates, color swatches, and step-by-step videos for each one.
BONUS #2: Magic Pack Course
Normally $97, you'll get the bonus Magic Pack included for free with enrollment.
You'll learn how to make 7 new brushes and create these 4 mini projects:
In addition to the course content and the bonus projects and brushes listed above, we're also giving you:
All 27

original brush files

in case you want to use them right away before learning how to make them

30+ Page Workbook

A chart of definitions for each brush setting 

List of the exact changes to make each brush

Blank templates

Bonus video:

Our #1 secret for analyzing brushes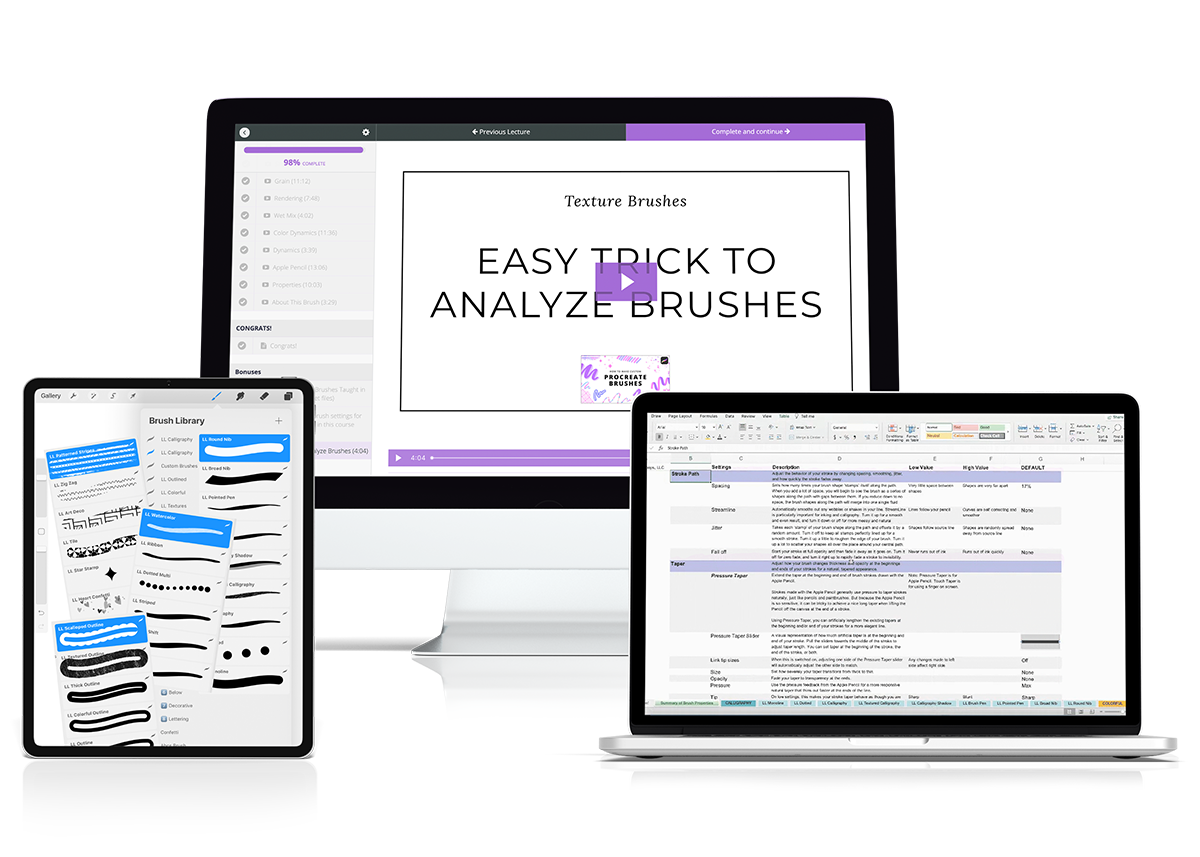 RECAP: Everything you'll get
COURSE MODULES
Step-by-step videos teaching 27 brushes

Detailed explanations of all 100+ brush settings

Module: How to create YOUR unique brush 
BONUSES
Original 27 brushes

30+ page workbook spreadsheet

Bonus Analyzing Lesson

4 Projects with templates
MAGIC PACK
Create 7 brushes

4 mini projects

Original brush files

Color palette
Total Value: $613
Today's Price: $197


FAQS
DO THE COURSE VIDEOS EXPIRE?
Nope! You'll get access for the life of the program and can watch the videos at your own pace, as many times as you need. Here's a free preview of one of the course videos so you can see what they're like.
IS THIS COURSE FOR ME?
This course is for you if...
You want to add 27 awesome new brushes to your library while learning the ins and outs of brush making

You're curious about Procreate brushes and want to understand what each setting does with detailed explanations

You've had fun following along with tutorials but want to create your own unique brush

You have a specific idea in mind for a brush you want to create but have no idea which settings to change to get there (what shape do I need? where's that one setting that makes the size change?)
WHAT SUPPLIES DO I NEED?
You'll need an iPad with the Procreate app and an Apple Pencil to complete the course. You can double check that your iPad is compatible with Procreate here.
You'll need an internet connection to be able to view the course videos. It is helpful to have a second device like a computer so you can watch the videos while following along separately on your iPad.
HOW IS THIS COURSE DIFFERENT FROM OTHER COURSES ABOUT BRUSH MAKING?
Here are some reasons why our course is different from some others that are available:
It uses the most updated version of the Procreate Brush Studio with all the newest features
There's a large focus on Calligraphy brushes, which will be really helpful if that's what you plan to use Procreate for
You can follow along with the lessons to actually make each of the 27 brushes from scratch, plus it includes a detailed explanation of all 100+ brush properties at the end
You get an Excel workbook file that includes all the settings for easy reference, and for cataloging new brushes you make
Steps to create your own unique brush are included (after learning the ones in the course)
All original brush files are included, in case you get stuck or just want to use them right away
You get an entire bonus course with 7 additional brushes, plus 4 lettering projects and the color palettes
It's a one-time payment, and you don't have to keep paying a subscription like SkillShare to continue accessing your course
CAN I RESELL THESE BRUSHES AFTER I LEARN HOW TO MAKE THEM?
No, you may not resell the brushes or near-copies of these brushes. However, you may sell artwork that you create using these brushes. Please email us if you have further questions.
HOW DO I SIGN UP?
Click any of the purple buttons on this page to go to the checkout page. Once you enroll, you'll have instant access.
Got another question we didn't answer? Send an email to [email protected] so we can help!
"This course was so much fun and got me more comfortable with the brush settings!


I had tried to create a brush before, but was extremely confused. I couldn't find many youtube videos to help, so I just gave up. I am so glad I signed up for this course, I've already created some brushes that I absolutely love and I owe it all to y'all!


Thank y'all so so much!" - Molly N.