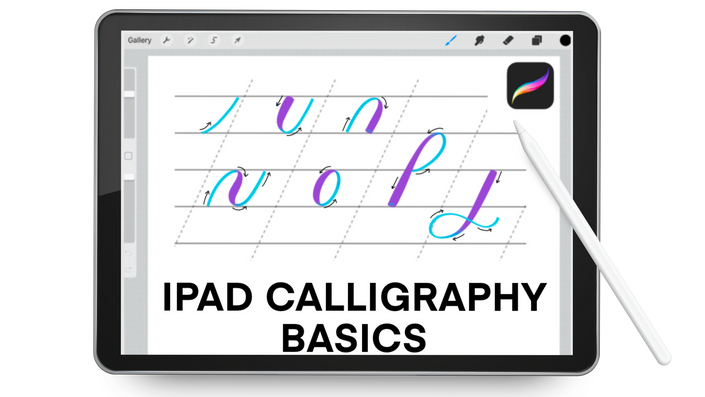 iPad Calligraphy Basics
Free Introductory Course
When you're new to learning iPad lettering, the learning process can feel overwhelming. From blend modes to the adjustments menu to your brush library and canvas size and sorting your lettering layer from background layer, trying to learn everything on your own would be an enormous headache.
The truth is: learning digital calligraphy doesn't HAVE to feel that way. Overwhelm comes from using learning resources that are too advanced, which is exactly why we've created this free introductory iPad calligraphy course for beginners.
Learn Modern Calligraphy On Your iPad
After teaching Procreate lettering to students all over the world through our iPad lettering courses, we've learned the biggest pain points of beginning to learn calligraphy. This course is specifically designed to combat those common hurdles them so that you can start creating today.

Get started for FREE today in iPad Calligraphy Basics with:
Our Procreate lettering brush
iPad Calligraphy Basics workbook
Step-by-step video instruction
No experience required

"I've already learned more than what I learned in a YEAR of doing all the worksheets and watching videos I could find on my own." - Adreanna L.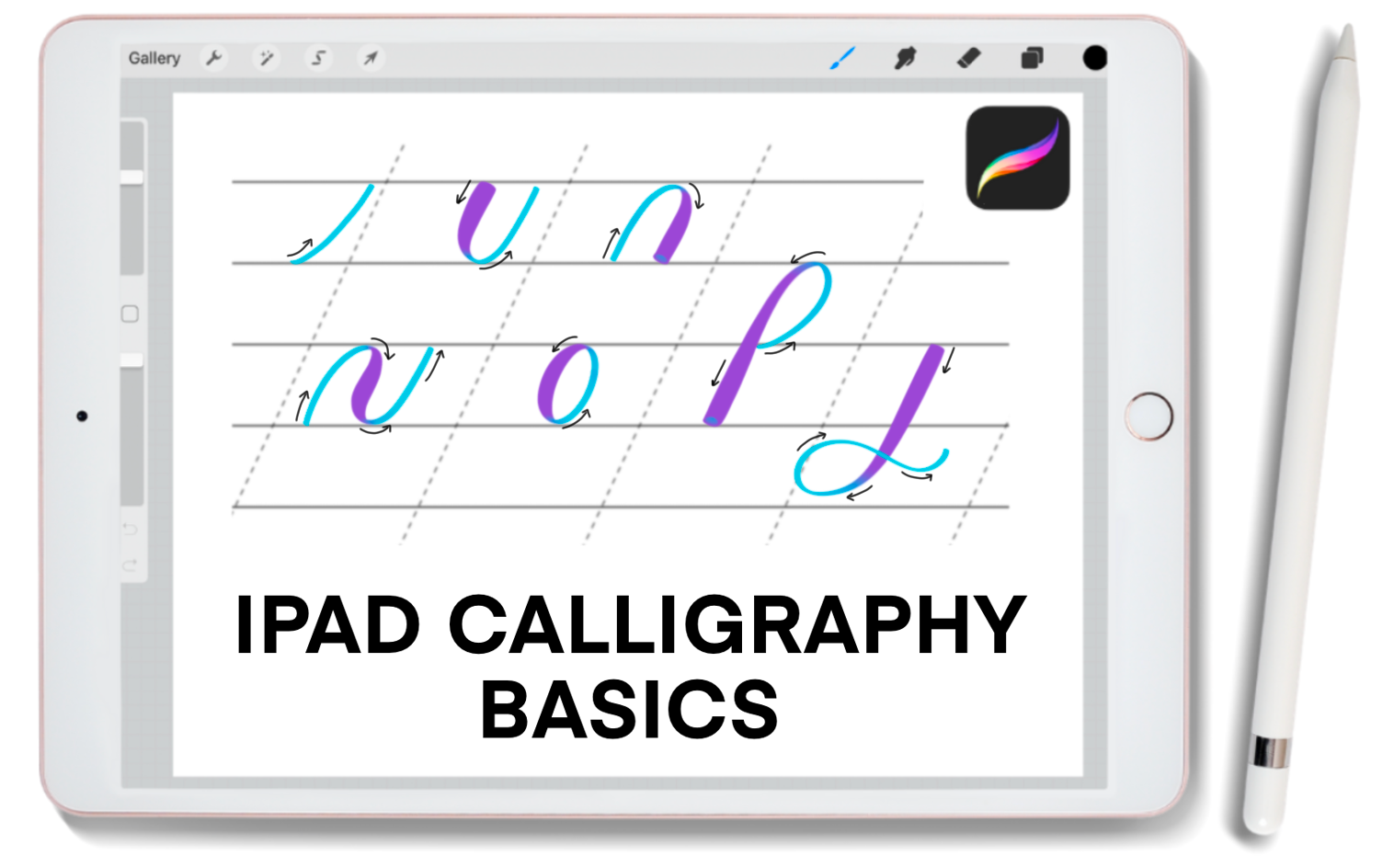 Your Instructor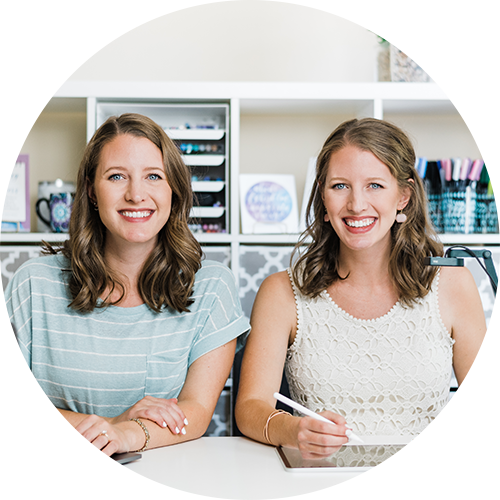 We've helped hundreds of students just like you transform into confident lettering artists. You can do it too, promise.
We were beginners just a few years ago so we completely understand the struggles of starting. The course was designed with those obstacles in mind!

Start your lettering transformation today. We can't wait to see how far you go.
"I can't believe this course is free! I've watched dozens of video tutorials and NO ONE else breaks down the steps like you guys do." - Kayla I.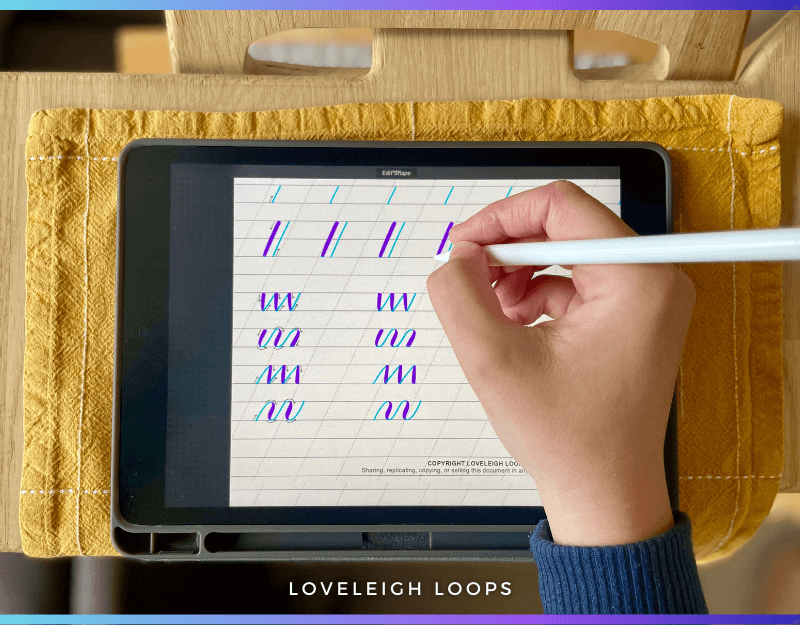 Our custom Procreate brush, included in the course
Why learn iPad lettering with iPad Calligraphy Basics?
Have you ever tried to follow a digital art tutorial, only to pause and constantly Google other tutorials to help you understand what you're being told?
We've felt that way, too. Free lettering resources built for digital artists that are familiar with Procreate make learning for absolute beginners impossible.
FYI: The name of the app that we use is called "Procreate".

In this free iPad lettering course, we explain every step (starting at how to use the app) so that no one is left behind as they learn Procreate.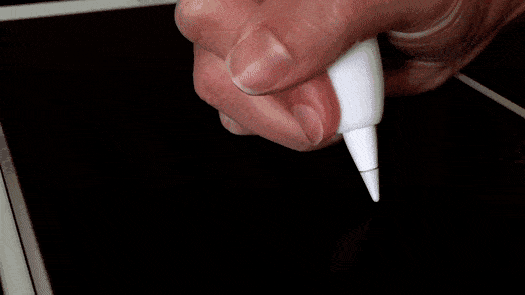 Our Procreate calligraphy brush in action! It's pressure sensitive and changes colors as you write thin upstrokes and thick downstrokes.
Get instant access to iPad Calligraphy Basics to learn how to use Procreate and have complete control over your canvas. We'll share free calligraphy practice sheets that show you how to write your basic strokes, along with a step-by-step tutorial on how to import the practice sheets, install and access your different brushes and start practicing calligraphy immediately.
What do I need to complete the course?
You'll need an iPad and the Procreate App, which is available for purchase in the App Store. You will also need an Apple Pencil in order to fully use the brush and workbook. Thinking of buying a new iPad? From the iPad Pro to the iPad Air and everything in between, there are tons of different models on the market. We walk you through the iPads that can be used for digital lettering in our iPad buying guide.
We're thrilled to be your digital lettering teachers!
What if I'm new to the iPad AND calligraphy?
This course is perfect for you! Whether you already know the hand lettering fundamentals or this is your FIRST experience with penmanship, we'll walk you through every step. You may be comforted to know that in ways, learning calligraphy on modern tools is actually EASIER than learning on paper. You can successfully learn and recreate even the most traditional scripts, like the Spencerian script: